Why you should have a
Vale

account
Smart and reliable security to protect your fund
Vale is secured by 256 bits SSL security encryption to ensure that your information is safe and completely protected from fraud. Also, our payment processors are PCIDSS compliant to ensure optimum security of your data electronically.
Save smarter and earn huge returns without stress
Saving could be difficult, but with Vale you don't have to worry because we provide you with numerous saving plans tailored for your lifestyle to save before spending while earning irresistible return rates
Pay your bills and manage your expenses from Vale
Vale makes it easy for you to pay your utilities, buy airtime, mobile data, pay-tv subscription while still tracking your expenses.
Make smart investment decisions on the go and put your money to work.
Vale provides you with a Robo-Advisor that helps you invest well, save smart, and achieve your goals using Machine Learning (ML) analysis of the market trends. These investments guarantee good returns for you in growing your money.
Meet
Vale

Products Tailored for you
Save2B
A savings plan that enables you to save for a particular goal, earn a high-interest rate. The interest rate is 8% per annum.
Flexbae
A flexible savings plan that makes you save and earn interest in as little as 24 hours. Access both your capital and interest anytime and enjoy 12% interest per annum.
Vault Lite
Reach all your target savings goals faster. Save for anything, a little at a time and let your hard work turn into an easy win. Enjoy 10% interest per annum.
Vault Plus
Give your money work by locking your funds for a fixed duration until maturity without access and get your interest paid upfront.
Trybe Savings
Save up for shared goals with friends, contribute separately and track progress together.
ThriftBae
Invite friends to save for a common aim. Different individuals receive the group's savings on a turn-by-turn basis i.e. Ajo/Esusu Savings.
Dollar Wallet
Instantly save and grow your Naira to Dollars on your terms, access funds anytime and earn interest while at it.
Dollar Vault
Great safety. Great results. Fix a certain amount of funds in dollars for a specific duration until maturity and enjoy good interest rate.
Our users are in love with us
Since launch we have helped people from all works of life grow and achieve their personal financial goals.
Vale is awesome! It's secure, safe and smart when it comes to handling your finances. I love this app and recommend it to my friends and anyone who cares to manage and grow their finances with the much needed confidence and discipline it requires. Keep up the good work!
M
Moses Ekeruo
This app is more than great, especially their customer service that respond fast and at last solving someone's problem, I recommended it. It's awesome.
C
Chukwudire Nwajiaku
Good and reliable. I make complaint here like 30 minutes ago and it has been rectified. Good customer service.
A
Ayano Aanuoluwapo
Refer friends and earn money
When you refer a friend, you get N500 after the person you refer completes the registration process and makes a minimum deposit of N1000.
How does it work?
Step One
Login to your Vale account
Click on "More" icon at the bottom right of your screen, then click on "Referral".
Copy your referral link and share it with family and friends!
Step Two
Get your referred user to complete KYC, and
Fund wallet with a minimum of N1,000.
Step Three
As soon as requirements are met, your wallet will be credited with 500 Naira!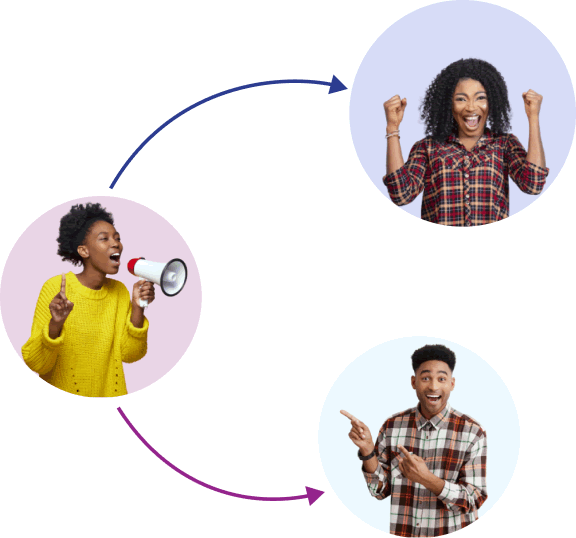 Join Vale Today
And start to make your financial goals real
Our Partners